Hiteco & ABB: A high technology collaboration
The factory of the future is already here
Simple installation, use and programming as well as flexibility and efficiency are the factors that are increasingly driving the use of robots in the engineering sector. A growing trend, in Italy and abroad, that not only considerably simplifies the factory and increases its productivity, but also entails a considerable progress on the work front by delegating risky and repetitive tasks, with low added value, to industrial and collaborative robots. But not all robots are the same or capable of the same 'miracles'. This is evident when analysing the collaboration that has grown between a leading multinational company in automation and industrial robotics and a globally-recognised excellence in the development, production and sale of highly technological components for machine tools. A collaboration that has made a difference, because it has led to the development of a state of the art robot-spindle application.

It all began when ABB, leader in supplying industrial robots, operating in over fifty countries and with over 130 years of innovation, decided to further increase its offer for manufacturers of machine tools. The result was a line of highly innovative industrial robots, complete with all the necessary technological components.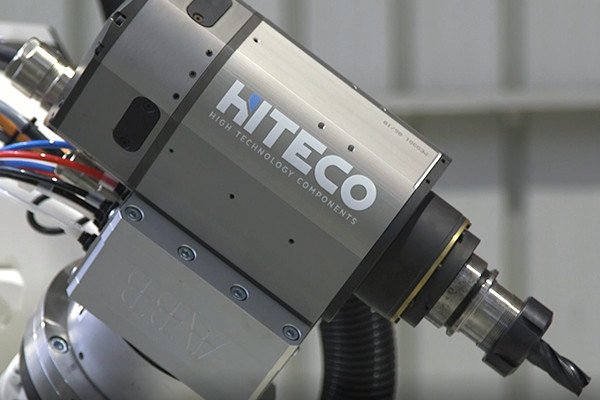 In order to successfully complete this new project ABB needed a partner up to the challenge, that was capable of supplying solutions in line with the levels of innovation that have rendered ABB an international leader in the robotic sector too. In fact ABB has created the most advanced factory in the world for industrial robots and artificial intelligence.
The choice was HITECO, an independent division of the Scm Group, that has been designing and producing high speed spindles for manufacturers of machine tools, and for all types of applications that require the removal of shavings, and therefore routing, for over forty years. Strengthened by Scm Group's decade's worth of experience in technologies for machining a vast range of materials such as wood, plastic, aluminium, stone, glass, metal and composites, HITECO has been able to establish itself, thanks to continuous and exponential growth, as an autonomous industrial leader and partner of successful companies in leading edge fields such as, just to mention a few: automotive, aerospace and robotics.
IRB 6700 SPINDLE PACKAGE: THE INNOVATIVE SOLUTION THAT COMBINES ROBOTICS WITH MILLING SECTOR
The collaboration between ABB and, HITECO has resulted in solutions such as the IRB 6700 Spindle Package, designed to machine an extremely wide range of materials: metal, wood, plastic and many others. The IRB 6700 family of robots is the result of ABB's 40 years of experience in producing large robots. This is the seventh generation that includes the most important improvements designed by a team of highly qualified and expert engineers along with input from ABB's customers.
For example, the IRB 6700 is sturdier than the previous model and easier to maintain, resulting in a robot with increased performance levels and lower management costs in the 150 to 300 kg payload category.
As Gianluca Cassanmagnago, Sales Export Manager Regional Application Center Handling and Machining Italy, explains, the new robot-spindle application came about to cover the broadest range of applications possible for all ABB Local Business Units across the globe. A research and development project that, starting from Italy, has further enriched the advanced know-how of this leading group. "Since January 2018, within a global project, we have set up the Regional Application Center Handling and Machining in ABB, to provide technological skills and solutions in machining applications (routing, deburring, sanding). One of the first activities carried out at the center in Italy has been the construction of standard packages, with robots already fitted with electrospindles and relative components, ready for installation".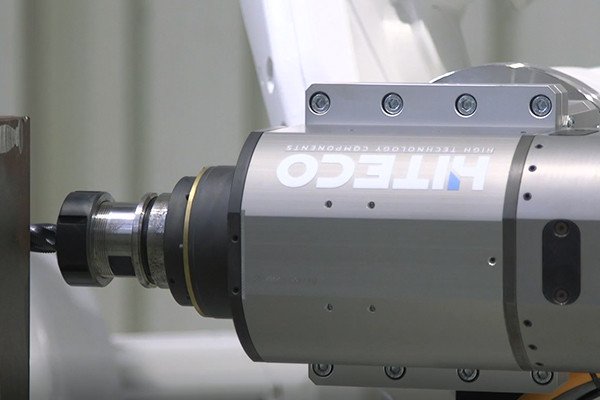 QX AND PX ELECTROSPINDLES: MAXIMUM VERSATILITY FOR ROBOTICS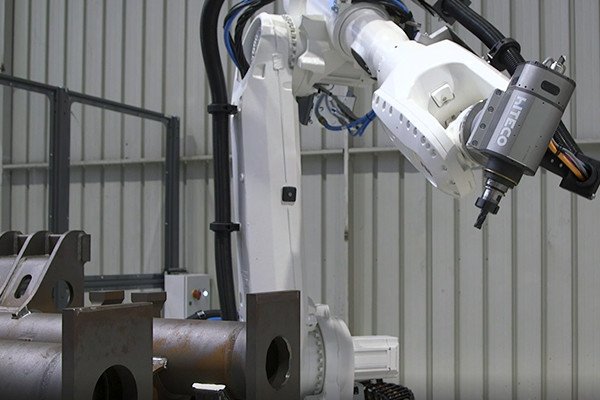 In particular ABB has selected the QX and the PX models of HITECO electrospindles. "This type of product", explains Andrea Memmo, HITECO's Area Manager Italia, "is part of our Robotech series. These are aluminium body models, with liquid cooling and F, E and A type HSK tapers". One of the strengths of this range is the possibility of choosing from various versions, one with a short nose and one with a long nose with, in the latter case, a set of three front bearings to achieve maximum stiffness.
But the thing that really sets this type of electrospindle apart, continues Memmo, "is the vast range of powers available in the same layout. For the QX series we offer a power range from 8.5 to 11kW, whilst in the PX series the power range is from 10 to 20kW. The extraordinary advantage is being able to setup the robot with the same interface, regardless of the power of the electrospindle selected".
WHY DID ABB CHOOSE HITECO?
As well as the technological strengths of HITECO's production, there were other factors that influenced the choice of ABB's Regional Application Center Handling and Machining Italia. Once again Gianluca Cassanmagnago, explains the reasons: "We decided to collaborate with HITECO due to their wide range of products, the quality of their technical manufacturing and the know-how demonstrated in the technical support and in the selection of the most suitable products for the specific machining operations. But for us the company's widespread presence throughout the world, and its ability of providing support and service at the global level, was another important factor".
HITECO, explains Andrea Memmo, will in turn treasure this project with ABB: "To strengthen our know-how and offer our customers increasingly innovative and cutting edge solutions".